August Resource Roundup
Summer Kids Books, Discussion Questions & Action Guides for Kyriarchy-Smashing Families
[Image: A bland banner that says "Raising Luminaries Resource Roundup August"]
---
This August we're tackling big transitions for little kiddos
Hey friends!
This month, we're supporting our kids to navigate fear, uncertainty, and resilience in the face of change.
Supporting our kids means helping them accept transitions as a normal part of life. Validating kids' big feelings through life changes. Standing in solidarity with them through uncertainty. Modeling practices to develop the resilience they'll need for healthy transformation.
Below, we'll cover:
Seasonal transitions that come with growing up – back to school, the end of summer, maturing bodies, and how to process big feelings about all this movement in a healthy way
Generational transitions – As we transition responsibilities to the next generation, how kids can connect with their heritage through barriers of distance, language, and lost ties to our ancestors' cultures.
Revolution (transitions of power in society) through history, and how our kids can participate in, envision, and orchestrate modern revolutions.
This all starts with helping kids develop a sense of how their experiences fit into the fabric of history, and how they can use their experience to connect with others.

Let's raise kids who can tap into experience, resiliency, and the comfort of knowing they are capable of contributing as a significant force of change. Once kids self-identify as a doer of helpful things, they'll find it easier to build upon this experience. They'll get more comfortable with discomfort. And they'll learn that no matter what changes the world throws at them, they don't have to panic when approaching a new transition.
Below each discussion guide, we include a short list of doable, family-friendly calls-to-actions.
We'll start with stories to introduce challenges we're facing together. Then we'll brainstorm small actions that little kids can handle.
You are here, which means you are a curious doer yourself. So, I hope you'll share your family's favorite small actions in the comments below.
---
You are doing a good job!
Raising Luminaries & Books for Littles are free and accessible for readers who can't afford a paywall. Since we're a contribute-what-you can community, I try to fill in the gaps with affiliate links. Posts may contain affiliate links, which allow me to earn a commission at no extra cost to you. Check out the full affiliate disclosure along with my statement of accountability.
Ways to reciprocate if you benefit from this work:

Buy a t-shirt | Buy a book | Buy plastic-free toothpaste | Subscribe to Little Feminist Book Club
---
Parenting is Praxis: August Edition
No one expects you to do it all – so pick one, or knit them together. Just keep pushing a tiny bit beyond your comfort zone and crack that noggin' open just wide enough to let a little light shine in.
Need help explaining big ideas?
Check out our Luminary Wordbank, where we've got simple kid-friendly definitions for big words.
Quick links to resources on this page
---
Get Updates & Stay Connected
"The many many free action toolkits you've shared
+ the work you've been doing especially lately to model/help folks initiate ACTION while also setting healthy boundaries
= I was able to turn what would've been a total 'melt and hide' situation (our school district teachers going on strike the week of our oldest kid's first day of kindergarten) into some learning moments and action for our family.

We wrote a letter to the school board together! We dropped off snacks to picketers! We went to the park instead of participating in 'virtual school'!

AND I resisted all urges to make Huge Sweeping Plans/force either myself or kiddo into social situations that would lead to meltdowns/get paralyzed. What we did do felt manageable and natural.

THANK YOU for all of your work <3"

– Caitlin L. Benevolent Incendiary Newsletter Member
Significant Dates & Events in August
National Bao Day
Even though the Earthquakes are separated from grandparents and great-grandparents through death, distance, and the pandemic, they still feel connected to their ancestors. We talk about the sacrifices and choices our ancestors made so we could have the lives we lead today. This discussion almost always revolves around food.
As we transition responsibility to the next generation, we can connect our kids with their heritage and previous generations with the way we sustain our bodies – even through barriers of distance, language, and lost family ties.
For instance -there's an actual day dedicated to bao. In a country where our special events aren't recognized by institutions, we don't get school days off for our even our biggest holidays, and most of our non-Chinese friends and family have a fundamental misunderstanding on what our real food is actually like, there's something thrilling about having a day celebrating our favorite pastry. Especially one with a smell and taste that brings back sensory memories – the smells and plump round softness of my grandmother's hugs.
You can [insert your favorite family food here] if you don't care about bao. But it's such an accessible food, with cultures around the world having their own spin on a tasty thing wrapped in a starchy thing. Why not celebrate both?
When is it?
Read:
Discuss:
What makes the bao in these stories about more than just a tasty snack to satisfy hunger?
Some hints to get you started: Family traditions of assembling food together, the variation that allows a family to make a recipe specific to them, the symbolism of the shape of ripe and wealthy abundance, the fact that these have been go-to host gift that supports Chinese-owned pastry shops for generations, and the soft, skin-like texture that feels like a plump grandma's arms.
In these stories, there's a conflict between generations and how we each believe we 'should' behave. What are the conflicts and difficulties each young character faces in building a relationship with their elders? What difficulty do the elders face in supporting their children?
Take Action:
Eat more bao. Support a local Asian-owned restaurant if you can.
Amy Wu and the Perfect Bao has a recipe if you'd like to try it yourself. Our 5-year-old is pescatarian, so once every couple years I pull it together enough to make vegan char siu bao to make sure he's not completely missing out on the flavors that link us to our great-grandparents. Support a local Asian-owned grocer when you shop.
More resources to dig deeper:

---
International Day for the Remembrance of the Slave Trade and its Abolition
Coming up – the anniversary of the uprisings in the Santo Domingo (territories currently known as Haiti & Dominican Republic), kicking off the start of a 13 year revolution (1791-1804) leading to the abolition of the slave trade in the Caribbean and directly influencing the 1865 abolition of slavery in the US.
As in all things colonizer-dominated education, if we're even lucky enough to have access to teachers willing to have conversations about slavery, we're still limited to learning about slavery and abolition close to home.
But it's important that we show our kids that abolition was not initiated by white men with fun hats. The most effective uprisings and initiatives in the Caribbean informed the battle strategy and war map for rebellion and revolution for freedom throughout the world.
When is it?
Read:
Discuss:
What transitions happen during a revolution? (ex: power, economic, social)
Who was Toussaint L'Ouverture?
What is a 'slave patrol?' (If you're not sure what it is, or why I say 'is' and not 'was,' google it.)
What types of slavery are still legal in the US today? (hint: read the 13th amendment)
What tools, knowledge, and strategies did enslaved people take to fight for freedom in the 1790's?
What tools, knowledge, and strategies are families impacted by incarceration and exploited prison labor taking to fight for freedom today?
*What revolution do you want to create in your lifetime? How will it impact the people you care about?
*I try to be flexible and understanding of the challenges of busy families. So I'm not usually into the 'YOU SHOULD BE DOING THIS ALREADY.' But fundamental to raising luminaries is weaving this question into everyday discussions with our kiddos.
Take Action:
Support a local business that makes soup joumou, or buy your ingredients from a Black-owned grocer.
Here's a quick guide on expanding these discussions beyond books so kids understand human trafficking and enslavement isn't something that happened to dead people in history no longer suffering. But how non-Black people benefit from a US economy built on slavery.
Check out this Family Action Toolkit on kid-friendly actions any family can take to transition toward abolition.
Eastern Massachusetts folks: Book a Wee The People Workshop at your community center or school. WTP was founded by Francie Latour (author of Auntie Luce's Talking Paintings), an #OwnVoices Afro-Caribbean American whose activism and justice work centers art-based, grassroots revolutionary principles in early childhood.
Additional resources to dig deeper into this topic:
---
International Day of Protest Against ABA (Applied Behavior Analysis)
"ABA tells an Autistic person that your reactions to things your body experiences is wrong. Not only that, but you are not allowed to do them. And not only that, but your reactions shouldn't exist because what you experience isn't actually happening since a neurotypical person doesn't experience them."
– Oswin Latimer, Autistic Consultant on PTSD
—
I don't want this to get lost while we wait for you to read the books. We have an urgent call to action for you today – against torture-based compliance therapy that even your #NotAllABA friends can get behind.
Coercion and compliance training trains neurodivergent kids to hide who they are for the comfort of neurotypical people. Yes, even the 'nice' kind where kids aren't getting beaten. Yes, even the 'positive' kind where kids get treats.
Teaching kids to hide when they feel uncomfortable, sad, happy, hurt, confused, etc. (all the stuff that makes us human), is abuse.
Teaching kids their main priority in life is to keep nondisabled folks around them comfortable and happy is grooming them and normalizing vulnerability to future abuse.
Yeah, fuck that.
When is it?
Read:
Discuss with kiddos:
What does it mean to have authority over another person?
What is coercion?
What does it mean to comply?
When you care for someone, should you treat them as a human being with feelings, needs, and wants, or as a tool you can adjust for your own use?
What is positive reinforcement? What is negative reinforcement?
If someone hit you every time you took a sip of water, would you feel comfortable drinking water around them?
What if they gave you a piece of candy and praise every time you *didn't* sip water when you're thirsty? How might that affect how you feel about thirst and water, even when they're not around?
What is conversion/compliance therapy and behavioral training? How does it work?
Is compliance/conversion training legal in your area? If so, against which groups of people is it legal? (Ex: gay conversion therapy is banned in many places, but IEP practices focused on compliance are the standard in schools across the US.)
Discuss Diana Dances
How did adults in Diana's life suggest her neurodivergent behavior is a disease or aberrant flaw?
If she hadn't lucked upon a doctor who understood neurodivergence, how might Diana have grown up thinking she was naturally flawed and bad at being human?
How did Diana feelings about self and her abilities change when she found a space where she could be herself?
How did Diana's friends and family benefit from supporting Diana in embracing her natural behavior?
Discuss Noni Says No
What kids of things do you think adults said to Noni before this story that taught her saying 'no' is bad?
Are there times when you have felt uncomfortable saying 'no?' What were you afraid might happen?
What is the worst thing that could happen if you say 'no' to a pushy friend?
If you don't feel safe saying 'no,' how can you try to keep safe? (Ex: conflict de-escalation techniques such as delaying, creating a distraction, finding help).
Discuss Wiggles, Stomps, and Squeezes Calm My Jitters Down
Compared to your experience, how does the child in the story experience sights, sounds, textures, and how their body moves through space?
What do you have in common? How are your needs different?
When you get over/under-stimulated, what does your body do to feel better (self-regulate)?
How would you feel if adults told you the ways you self-regulate were wrong and forbidden?
Reflection Action
List the behaviors your kiddo most often gets reprimanded for at home and at school. Which behaviors are discouraged to keep ourselves and others safe so we can work together? Which ones prioritize the comfort of those in power above those with less? How can we tell?
How do you choose when to comply with authority? What would happen if you always complied? What would happen if you never complied?
Create a security network or pod map. Have your child make a list of people they feel safe with, who would believe them if your kiddo reported harm, confusion, or uncomfortable feelings. At least one of these people should not be close or reliant upon your family or religious community (ex: a teacher or neighbor). Discuss how you would keep kids safe from retaliation if they reported harm.
Role play ways to de-escalate, say 'no' and extract yourselves from dangerous situations with people who may have power over you, for example a teacher, older person, or popular friend.
In what ways have we pressured others to hide who they are so we will like them? How can we give those we care about power to say 'no' to us?
More resources to dig deeper:

---
Overdose Awareness Day & Harm Reduction
When is it?
Overdose awareness day is August 31
Read
NOT RECOMMENDED, but you're going to come across this book: A kids book about Addiction
(content warning about outdated & over-simplified language, calling drug users 'addicts,' implying dependencies are the same as addiction, othering of drug users, implications that all drug users harm non-drug users).
This is NOT an #OwnVoices story.  Read this book if you want to unpack how popular media discusses addiction and others drug users, under a savior lens while also further stigmatizing drug users and people with substance dependencies.
Discuss
If you and your child are not drug users – unpack how children's books at your local library center non-users and imply that a loved one's chemical dependency is something they are doing to non-users.
Ask kids: Why do you think #OwnVoices authors with chemical dependencies reluctant to disclose or write about their experience, how they are treated, and what real help would feel like?

The cost and barriers to healthcare in the US, the cost and access to street narcotics
Ask kids: Why might someone experiencing a disability or illness be more vulnerable to developing a chemical dependency?
How the US criminalized drug use, and whether trying to punish or scare someone out of a chemical dependency could work.
Ask kids: What kind of help could work better?
The movement for harm reduction & decriminalizing drug use.
Ask kids: What can we do to help?
How American culture encourages silence & invisibility around chemical dependency, but still sensationalizes drug use by marginalized communities and overdoses.
Ask kids: Who benefits from narrowing the story about WHO uses drugs and WHY?
Take Action
---
You are doing a good job!
We homeschool and I often build lessons around the books you and topics you suggest. The resource found-ups are my favorite thing. They are so helpful.

It's wonderful to be able to trust your book recommendations.

Megan B., LUMINARY BRAIN TRUST MEMBER
Want to keep Raising Luminaries free & accessible for all?
Support my out-of-pocket costs for hosting this website with a donation: Paypal | Venmo | Ko-fi
---
---
In August, we dig into…
---
Let's Explore Freedom to Pursue Education Rights
In September for Orange Shirt Day, we set aside a week to discuss residential schools. But that's about using educational institutions as a tool of compliance training, assimilation, and genocide. Those weren't really schools so much as prisons.
Since we'll talk about the freedom to escape dangerous institutions next month, let's learn about the freedom to pursue education, including desegregation and education accessibility.
Read:
Watch
Discuss with kids:
In what ways were mainstream schools designed to include the kids in these stories?
In what ways were schools designed to exclude them?
What types of learning and information should all people have access to?
What does our 'school' (homeschool, alt-schools, etc. included) look like? How is it accessible for my abilities and family? How could it be more accessible?
Why did our family choose this type of school? What types of school are inaccessible for my abilities and our family?
Take Action: Learn how NIMBYism maintains segregation in education
If you live in a school system with decent resources, chances are there are some NIMBYs in your area fighting to maintain the housing shortage under the guise of not wanting to pay to educate more students. The hope is to maintain the hard work of supremacist redlining. These folks are often not above using an undercurrent of threat, since those students are likely to be less affluent and less white.
This is all bullshit since those poor brown families usually pay a disproportionately higher amount of their income to taxes. Do not fall for this argument, and call them out on their classism, racism, and bigotry.
Search locally to find out how you can get involved and support organizations already doing the work. For example, Engine 6 in my city is doing fantastic grassroots education.
Additional resources to dig deeper into this topic:
---
Let's Explore Back to school
For those of you heading back to mainstream school settings, here are the books we used to support the kiddos as the first day of school approached.
Most back-to-school books introduce and amplify school jitters and anxiety. So if you're hoping to address any unspoken concerns while amping kids up for the new year, these are the least fear-mongering books that got the Earthquakes excited.
Read:

Additional resources to dig deeper into this topic:

Fear-Free First Day of School: Most kids' books about the first day of school center fear and anxiety. If your kid isn't expressing nerves and you don't want to introduce the idea that school is something to be nervous about, these are the books for you. However, some of them do address anxiety in a roundabout way. Reading these together gives kids who have unexpressed fears the opportunity to open up about them, without dragging out the stories suggesting school is something to be afraid of.
Equity, Education, and Validating Frustration with 'On The Day You Begin' for kids returning to school, nervous about spotlighting and discomfort that comes from being 'the only one' in class with a targeted identity.
---
Let's Explore Transitions: Anxiety about letting go and growing up
The headline theme of this summer's Earthquake meltdowns were rooted in difficulty with change and transitions. We're a mixed allistic/autistic family, and our family has a tough time with transitions both big and small.
I started puberty early, and the autistic kiddo is following in those genetic footsteps. He's freaked out by the surges in hormones. He's freaked out by the changing physical and social demands of adolescence.
And like the rest of us, he's freaked out by the impending re-entry into a post-Covid world.
Like many families transitioning out of isolation, we're starting to host play dates and gathering with family again. [*haha j/k I wrote that sentence two weeks ago and now the delta variant is ruining everything, no more play-dates for us.]
As a family with autistic members, stretching those atrophied social skills has been rough on the kids, and exhausting for me – with plenty of separation anxiety, play-date jealousy, anxiety-based controlling behavior and multi-hour meltdowns.
For those of you experiencing the same, I hope you're being gracious with yourself and your kids, as this transition back to 'normal,' particularly for those of us with social disabilities, is a whole new type of complicated emotional and mental labor.
Whether your family is anxious about big lifestyle changes or starting a new school year, here are some resources that helped us validate and mitigate some of our kids' anxiety.
Read:
Peep and Egg: I'm Not Hatching (ages 1-5) How fear presents as stubbornness.
What I Like Most (ages 3-5) Everything we love is transitory and that's okay.
Little Tree (ages 2.5+) JUST GO AHEAD AND BUY THIS BOOK. I thought the kids would grow out of this, but we pull it out for comfort at least four times a year for recovery through every transition-based meltdown and emotional for impending changes. I thought they'd grow out of it, but we were able to use it just this week to support a kiddo wrestling with tween hormone surges nervous about entering adolescence.
Discuss with kids:
What's my baseline approach to transitions and change?
If you or your kiddo has executive functioning disabilities (ex: ADHD, Autistic), you might life in a permanent state of concerted effort. The effort required to switch your attention away from every breeze against your skin, or how to get a glass of water to your face might not auto-pilot like a neurotypical. So if your brain is already working at 98% to deal with existing, it's no wonder you have big feelings and reactions at the suggestion of yet more mental work.
What big changes are coming up soon? How can my people support me through it?
Example: birthdays, seasons, moving homes, family changes.
Parties, festivals, holiday traditions, weddings, funerals, and change of decor or sensory input are some ways humans process transitions in a healthy way.
In the busy 'GO WORK NO SLEEP!!!' of capitalism, we're dysfunctional at marking the end of one thing and the beginning of the next. What rituals and little celebrations can we add to our days and years to give us space to process before moving on to the next thing?
What tasks can we post on the wall to delegate some of that mental labor or figuring out what to do after getting out of bed?
What do we appreciate about now that are we afraid of losing during an upcoming transition? What do we gain by letting go?
What season and stage of life are we saying goodbye to? Not acknowledging the losses of transition just makes that loss worse. Focusing on the new benefits without some sort of closure ceremony muddies the joy of what's coming next.
Take Action
How can others support my struggles with routine change? What rituals and habits could our family or teacher start to help us with reoccurring transitions?
Example: Mr. Rogers used to change his clothing and sing a familiar welcome song at the beginning of every episode as a visual and auditory ritual to help kids transition from whatever they were doing before – to getting focused on what is about to happen in the show. (We could all afford to watch more Mr. Rogers, he put so much effort into making his show accessible for neurodivergent kids).
Who do I know who has trouble with changes, or has a big change coming up? What is a no-pressure way to ask how I can help them?
Sometimes involving ourselves when someone else is freaking out just adds to the stuff we have to process and makes things worse. So ask during a less stressful time, don't wait to ask during a meltdown.
Example: "Would you like to talk about how I can help? What does support look like before, during, or after this transition?" Does the friend like to be hugged, or not touched, or do they need an advocate to tell others to keep their distance, or shut off the lights? Would it be helpful to have a glass of water or favorite stuffy ready after a meltdown?
A good way to start is by experiments removing or adding sensory input.
What regular traditions can we practice each day, year, etc. that will help ground us as a family so we can ground ourselves in a sense of stability for when shit hits the fan?
Regular family dinners, daily meditation, annual trips to visit family – this is the stuff that helps kids reorient through unforeseen transitions so they can react proactively instead of scrambling to react.
Additional resources to dig deeper into this topic:
---
Let's Explore Family Constellations
Quick shortlist of some (but nowhere near all!) types of good and lovely families:
More resources to dig deeper:
Let's Explore Family Constellations: Polya Families
Since we've already got an extensive collection of resources on diverse family constellations, let's focus on the most under-represented constellation in kids books – polyamorous or non-traditional blended families with multiple parents.
Every kid has the right to be proud of their family constellation, and that includes kids with polyam parents and grandparents. There really aren't many mainstream books out there, so we have to settle for books that allude to plural parenting, without explicitly validating a kid's reality.
So until we get great mainstream polyamorous family constellations, you can get started normalizing and reflecting your polyam family with:
Read
Love, Z (ages 2-6)
Suuuuper ambiguous, but this little robot has a large family, all with ambiguous roles.
Raf and the Robots (ages 4-7)
While the author set out with the intention to normalize polya families, this story is more about patience than family, while subtly normalizing a three-parent family. It's still vague though, and the author intentionally left things ambiguous if a reader wanted to see the third parent as a live-in aunt, surrogate, co-parenting ex, etc.
Super Power Baby Shower (ages 4-7)
Clunky, hard to follow, but once you get a handle on what's going on, this is an explicitly polyam family.
More books:
Avoid:
Sometimes we retcon kids books about jealousy (friendship) on the fly to fit into the polyam family mold, but I'm not wild about this. Narrowing down on one tiny detail / stereotypical view of what monogamous folks fear about polyamory and using that as the singular entry point to polyam families still centers a nuclear-family perspective on what is natural and normal.
---
---
Donate a Little Feminist Book Club subscription to your local summer camp so sensory-overwhelmed kids can enjoy rainy days & quiet recovery spaces.

Over the years, we've filled neighborhoods with books like All the Way to the Top and We Move Together.
---
---
August Calls Us To Action!
Download the Little Feminist Reading Challenge bingo sheet to kick off your summer reading.

Need help finding books to meet the challenge? OH I GOT YOU, BUDDY.
---
Families: Notice a Neighbor
Via Revolutionary Humans, used with permission:
"Have you ever had one of those days where everything is overwhelming, the kids are too loud, the coffee got cold, your to-do list grew exponentially, and somehow time is moving both really slowly and way too fast for you to catch up?!
I have what I hope is an abnormal amount of days exactly like this and usually, aside from the sweet smiles of my loud, messy children, what helps me get through is being noticed. Sometimes it's by a neighbor who's (at a safe distance) reminding me to hang in there, sometimes it's a friendly text.
Try to notice someone who's maybe not a hero but still brave enough to get through each day and let them know they're doing okay. And, okay is enough!"
---
---
Co-creative art projects designed to inspire & spark hope in busy parents
Thought-provoking essays and journal prompts on parenting through multiple intersections of oppression
Receive monthly kindness actions to motivate little leaders
Live virtual events & book clubs
---
Grownups:  Support Reproductive Healthcare & Abortion Access for LGBTQiA2S+, BIPOC, poor & and targeted youth
Choose an action accessible to you:
Sign the petition calling on Congress to support Abortion Access Legislation via the Women's Health Protection Act*.
Text PMQRWU to 50409
Donate $5 now to Abortion Within Reach to support direct-care, crisis relief funds & advocacy protecting reproductive justice.
"We demand that young people have the explicit legal right to consent to  their own sexual and reproductive health care needs with full protection for their privacy and confidentiality and that young people have full  access to the reproductive health services they may need, including but  not limited to abortion, birth control, and comprehensive sex education  that is sex-positive and LGBTQIA+ affirming."
*I know the name of the legislation sucks, but we're in a crisis and picking our battles here. Demand Senators pass H.R. 3755 using any tool available including ending the filibuster.
To find more of our petitions, text GO LUMINARIES to 50409 or visit Raising Luminaries Resistbot Petitions
---
Friend Needed – Help With Our Fast-Action Challenges!
5 minutes: share what you're already working on
I'm trying to do less, but still doing too much. It's irresponsible! Someone could lose an eye!
So I was wondering for those of you who keep up with petitions, letter-writing campaigns, and other legislative pressurey things:
Are you interested in helping me create our monthly 'Sign this thing or write this letter'?
If you are already monitoring calls to write letters, sign petitions, and other stuff, might you be interested in choosing one action that fits with our monthly theme so I can boost it in our community?
If this is easy and fun for you – leave a comment if you'd like to volunteer to identify one quick call to nudge legislation each month.
Since I overboard (in everything, always) It would save me like 3-6 hours each week not having to read newsletters or search for effective calls to action that you probably already have on your radar anyway. We could be in cahoots!
---
Bystander Intervention Training
Register for free virtual bystander intervention training with Right To Be
---
Join the Luminary Brain Trust
I learn so many things with this group, which in turn helps me teach my littles. It is so helpful to be reminded that we don't have to do all the things all the time, too.

I'm so glad I've found this amazing safe space to learn, read, try new things, and know that there are other amazing people like you who totally have my back and are rooting for me. THANK YOU!

Cassi M., LUMINARY BRAIN TRUST MEMBER
---
---
You are doing a good job!
We support those who support our community. I've reinvested 12% of our 2021 Patreon pledges to activists and organizations such as Abortion Within Reach.
Find out who pays all this, and where the money goes in our Financial Accountability disclosure. It's got charts! And just abysmal budgeting skills!
Join us and help keep these resources free for everybody:
Paypal | Venmo | Ko-fi | Buy a t-shirt | Buy a book | Buy toothpaste | Subscribe to Little Feminist Book Club
---
---
Good Finds for August
Update: We're now tracking classic good finds over here by recommended age and publish date.
You can keep track of great new finds as we add them to the in-progress best books of 2022 as well as our Summer Favorites.
---
One more good thing…
Worried your homeschooling curriculum doesn't have enough sitting still and testing? Getting anxious about how to assimilate your kids into a lucrative career coding sprockets to fund a billionare's space vacation?
If it makes you feel any better, this is what 98% of our homeschool lessons look like. You're already way ahead of us, buddy.
[Video description: Q and R2 in 'school session' Q is jumping and dancing while singing the word 'Awesomeazing' repeatedly. R2 is spinning on a hanging twirly bar. It's exhausting just watching them.]

---
Stay Curious, Stand Brave & Smash the Kyriarchy
As we enter autumn – remember you deserve rest and care and have a right to burn down the shit that's keeping you from rising.
I know you've got a lot of people relying on you and a ton going on right now – but I just wanted to remind you that even if you mess up or can't take on everything folks ask for – you are unconditionally awesome.
I don't ever expect you to do *all the things* in these roundups. They're not more stuff for you to handle, they're the tools you can use to burn away the bullshit and climb to a better world, if you want it. The stuff I make for you is here for you for when you're unsure of where to start, for when you need support.
I appreciate you. I want you to feel safe and happy and whole. So you better be kind and patient with yourself! I demand it!
With you,
– Ashia
---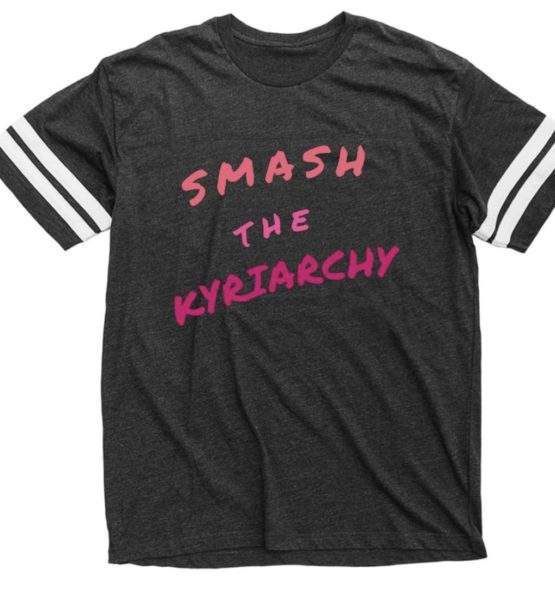 You give me hope.
Knowing we're in this together, each making tiny steps toward courageous, radical kindness – we're not alone!