September Resource Roundup
Autumn Kids Books, Discussion Questions & Action Guides for Kyriarchy-Smashing Families
[Image: A bland banner that says "Raising Luminaries Resource Roundup September"]
---
This September we're slowing down and working sustainably
Hellooo friends!
I did it! I made you a September Roundup!
:: very proud of this ordinary thing ::
Sometimes you have to celebrate the small stuff – like getting out of bed in the morning and completing the basic foundations of your job. Amiright?
This month, we're supporting our kids in slowing down and working sustainably
Supporting our kids means helping them recognize when it's time to slow down and accept that they can't do it all. And definitely not QUICKLY AND ALL RIGHT NOW.
---
You are doing a good job!
Raising Luminaries & Books for Littles are free and accessible for readers who can't afford a paywall. Since we're a contribute-what-you can community, I try to fill in the gaps with affiliate links. Posts may contain affiliate links, which allow me to earn a commission at no extra cost to you. Check out the full affiliate disclosure along with my statement of accountability.
Ways to reciprocate if you benefit from this work:

---
Parenting is Praxis: September Edition
No one expects you to do it all – so pick one, or knit them together. Just keep pushing a tiny bit beyond your comfort zone and crack that noggin' open just wide enough to let a little light shine in.
Below, we'll cover:
Below each discussion guide, we include a short list of doable, family-friendly calls-to-actions.
We'll start with stories to introduce challenges we're facing together. Then we'll brainstorm small actions that little kids can handle. You are here, which means you are a curious doer yourself. So, I hope you'll share your family's favorite small actions in the comments below.
Need help explaining big ideas?
Check out our Luminary Wordbank, where we've got simple kid-friendly definitions for big words.
---
---
Significant Dates & Events in September
Labor Day
When is it?
On the first Monday of September
Read:
Discuss:
Choose one product your family invests in (example: a new backpack or school supplies).
With a web search, how difficult is it to find the following information:
Where did you buy it? Who transported it to you? Who assembled it? Who gathered the materials from the earth?
Is it difficult to find out whether all of these people were paid enough to support their families? What are their working conditions like?
Take Action:
If you hire childcare, house cleaners, or work for a company who hires cleaners and care workers – how can you incorporate the principles of the National Domestic Workers Alliance? Whether it's sharing transparent family policies on how you will support your sitter after exposure to Covid to using your vote to empower care workers, there's something in there for everybody.
Additional resources to dig deeper into this topic:
---
High Holidays of Rosh Hashanah and Yom Kippur
When are they?
Both holidays start at sundown and are part of the High Holy Days that kick off the new year.
Tishrei is the first month in the Hebrew lunisolar calendar, typically falling in late summer or early autumn.
Rosh Hashanah falls on the first and second days of Tishrei.
Yom Kippur falls on the tenth day of Tishrei.
Read:
Discuss: (See resources below if you need help)
Why does apologizing feel difficult?
Practice a 3-part apology
Discuss what it means to forgive
Additional resources to dig deeper into this topic:
---
Ganesh Chaturthi
This month we're learning about (but not appropriating!) Ganesh Chaturthi.
This festival celebrates Ganesh, the famed elephant-headed god of new beginnings, remover of obstacles, wisdom, and intelligence. He's also wild about sweets, so reading stories about him is an accessible gateway for non-Hindu kids to learn about the significance and principles of Hinduism.
When is it?
Ganesh Chaturthi is a 10-11 day festival that begins on the fourth day of the sixth Hindu month of Bhadrapada, typically falling in August or September.
Read
Discuss:
Use Get to Know Ganesh from Mango & Marigold as you read stories about Ganesh.
As kids if they can spot common visual and cultural signifiers of Ganesh across stories about him.
Additional resources to dig deeper into this topic:
---
Asthma Peak Week
Even if no one in your family has asthma, this is your chance to be a good ally for folks with breathing disabilities!
Peak week is the sneaky time of year when folks with asthma get hit particularly hard and are vulnerable to sudden and deadly asthma attacks. Please take this seriously.
When is it?
I mean with climate change – WHO KNOWS?! But typically in late summer or early autumn as school starts and kids start to share germs, folks head indoors with reduced ventilation, ragweed releases its pollen, and mold starts to grow on fallen leaves.
In past years, the third week of September created the highest concentrations of asthma attacks and hospitalizations.
Read validating books for kids with asthma:
Clean It! (Ages 2-5) Normalizing characters with asthma.
Abby's Asthma and the Big Race (Ages 4-8) Presuming competence, validating and empowering for kids with disabilities. Whether or not you care about asthma, this is such a good find! The story is not just validating for kids with asthma, it also validates the experience of disabled people dealing with friends, teachers, and family who assume folks with disabilities don't know their own limits.
The Lion Who Had Asthma (Ages 1-5) If you've ever struggled to get a tot to sit still for nebulizer treatments, Our kiddo enjoyed this at 3.5, and it was all he needed to understand his how treatments help with fun make-pretend scenarios to pass the time in his treatments.
Discuss:
Educate non-asthmatic kids on what asthma is, and how to support a friend who is having trouble breathing.
But also dismantle myths that suggest kids with asthma are weak or incapable. People with disabilities know their own bodies best!
Let kids with asthma (even mild and infrequent) know about peak week, so they can pay attention to their bodies. You know how some kids get so distracted by fun, they don't realize they need to pee and wet their pants? This is like that, but with deadly consequences.
Talk about your kid's favorite sport or music genre (both of which require advanced breathing control), and find a few examples of successful people in this genre who live with asthma.
Take Action:
Presume competence and encourage kids to pay attention to their bodies' messages. When our kid isn't showing signs of labored breathing, but he tells us he needs his inhaler, we believe him and we get the damn inhaler!
Educate recess monitors, sports directors, and educators on the earlier, subtle signs of labored breathing and pending asthma attacks. Since most schools require inhalers be kept in a nurse's office, you'll need to account for the time to whisk a child to the nurse and for them to locate and administer medication.
Set aside time before peak week to check the expiration dates of medications and inhalers, and to get extra refills for sports activities and classrooms.
Additional resources to dig deeper into this topic:
---
Latinx & Hispanic Heritage Month
Let's read more books by #OwnVoices Latinx authors!
When is it?
Latinx & Hispanic heritage month starts September 15th and lasts through October 15th.
Read:
Red Panda and Moon Bear (Ages 8-12) Poppy, goofy, and a supportive, healthy, positive sibling relationship. So good!
Lucía the Luchadora (Ages 3-7) A little girl inspired by her kickass grandma and cultural heritage taking up space, and asserting herself? Yes please.
Octopus Stew (Ages 4-8) Fun, whimsical, and smashing elder stereotypes with a boomer grandma who doesn't fall into the typical kidlit grandma stereotypes.
Watch:
Only Luminary Brain Trust members get access to our full analysis of problematic tropes and celebratory favorites from the #FamilyMovieNight series. The rest of you can still enjoy the movies though.
Discuss:
What does it mean to identify as Latinx? What's the difference between identifying as Latinx, Hispanic and Spanish?
Not all Spanish-speaking or ethnically Spanish people are culturally Latinx! Not all Latinx people are Hispanic!
Why is it important to refer to individual people by the way they self-identify?
Indigenous people from what is currently known as Central & South America may prefer their Indigenous tribe's label over the labels put on them by colonizers. A Chicanx or Mestiza may claim specific identities over umbrella terms like 'Latinx' that blurs the line between Indigenous people, settlers, and colonizers. Latino folks clinging to the gender binary get huffy about the term 'Latinx.' And so on.
How has Spanish colonization of what is currently called Central and Southern America impacted the cultures and identities of people Indigenous to these places?
How did kidnapping and enslaving people (African people to the west, Indigenous people from Turtle Island to Europe, Central, and South America) shape the modern Latinx identity? How did enslavers use displacement as a weapon to control and exploit enslaved people?
What does it mean to identify as Afrolatinx? How do Afrolatinx and Afrocaribbean identities intersect, and what's the difference?
What stereotypes and assumptions do we make about Latinx people and cultures? What stories and shows have we picked these ideas up from?
Actions:
For parents: Learn how colonization sparked the legacy of modern domestic violence and generational trauma from Latinx Parenting's Ending Chancla Culture (your enrollment fee supports Latina decolonizing educators.)
Additional resources to dig deeper into this topic:
---
Mid-Autumn Moon Festival
This is one of our favorite holidays. We keep it low-key. No gifts, no traveling, just staying up a little late, maybe taking a lantern stroll, and enjoying a tasty dinner together, and moon gazing with snacks.
When is it?
Falls on the night of the biggest full moon, roughly around the 15th day of the eight month of the Chinese lunar calendar, typically around September-October.
Read:
Watch
Only Luminary Brain Trust members get access to our full analysis of problematic tropes and celebratory favorites from the #FamilyMovieNight series. The rest of you can still enjoy the movies though.
FINALLY – Representation, blended families, and capturing the bittersweet grief of Chang'e & Hou Yi in Over the Moon
Discuss:
Depending on who is telling the story, Chang'e is either a selfish harpy or a self-sacrificing martyr.

Why do you think people choose to depict her in such opposing ways?
How does the virtue of self-sacrifice or the shortcomings of selfishness tie in with other cultural Chinese stories you've read?
How are these traits viewed within your own family?

Depending on who is telling the story, Hou Yi is either an abusive husband or a gentle and brave husband.

Why do you think people choose to depict him in such opposing ways?
How does the virtue of bravery and gentleness, or the shortcomings of reckless aggression tie in with other cultural Chinese stories you've read?
How are these traits viewed within your own family?

Many of the Americanized adaptations of non-American traditional stories are defanged and sanitized. Characters become all good or all bad, and nice people get happy endings. Why do American storytellers make these changes?
The story of Chang'e and Hou Yi is about accepting boundaries and obstacles in a relationship. What obstacles have kept you from being with your family these past two years?
What virtue are kids supposed to take from the story of the moon rabbit (self-sacrifice to a point of giving up his life for someone's meal). Do you agree or disagree with his choice? Why?
Take Action:
For our family, the Mid-Autumn Moon Festival is a time to connect with family, appreciate what we've received this year, and brace ourselves for the winter ahead. There's way more to it than a love story, a cute rabbit, and lanterns.
If this holiday is not a part of your culture or your heritage, please don't appropriate it!
HOWEVER: You can learn from it!
We have an easier time letting go of the more toxic colonist family traditions we've inherited from previous generations (like the commercialization of Christmas, the cruel destruction of Halloween, and the sanitizing of genocide against Indigenous people on Thanksgiving) because we have a connection with other family holidays and traditions.
For US settlers who haven't been able to let go of the myth of a 'first thanksgiving' – because you don't want to let go of that family tradition of connection and gratitude, try this: Learn more about your family's history, your ancestral traditions, and see if you can celebrate and find connection and celebration in these events.
Ancestors around the world have developed gorgeous, meaningful, lovely seasonal land-based acknowledgements and celebrations of the transition from summer to autumn. If you look, you'll be able to find and reclaim practices that have personal meaning for your family – without fetishizing or minimizing our traditions.
Additional resources to dig deeper into this topic:
---
Black Women's Equal Pay Day
To tackle this topic, we read stories of contemporary Black women that focus on agency, competence, and direct targeting. Misogynoir doesn't 'just happen to' Black women. This gap in wages and advancement is not inevitable or natural. White and non-Black POC reinforce systemic misogynoir through our decisions – fueled both by unconscious bias and consciously targeting Black women.
This discrimination starts in early education and continues through a career, with those of us in power exploiting the lack of opportunities and alternatives available to Black women and femmes. As non-Black people, we benefit from uncompensated labor of Black women – so we have an individual and community responsibility to reciprocate that care and labor.
When is it?
2021: August 3
2022: September 21 (notice that the gap is increasing.)
Read:
Discuss:
How do we internalize the assumption that a Black woman's labor is worth less than that of a white man?

What assumptions did people make about the girls and women in these stories? What messages did the protagonist receive from others about the value of her abilities and contributions? Do you think they'd send these same messages to a young white boy?
What obligations did the girls and women in these stories have to take responsibility for, that white folks didn't?
Discuss the ways your family receives money. What are your sources of income?
What is one time when a grownup expected us to do great work? What is one time when a grownup expected us to fail? How do we think that affected how good we felt and how hard we worked?
Take Action:
How can we transition our economy to distribute wealth to those working hardest?
Brainstorm ideas for how to hold your sources of income (employer, family, clients, investment returns) accountable for distributing wealth equitably between people regardless of race or gender.
Can you write a letter or proposal for how to evaluate wages fairly? Can you distribute a portion of your income to Black mothers targeted by systemic barriers to employment or a fair wage? Can you research the companies your family works for and purchases from to see how they invest and contribute to communities supported by Black women?
More resources to dig deeper:
---
Orange Shirt Day
The Carlisle Indian Industrial School was founded by colonialist and white supremacist Richard Henry Pratt in 1879. He designed the residential school program as an intentional act of genocide, on this principal:
"All the Indian there is in the race should be dead. Kill the Indian in him, and save the man."
That, my friends, is how white supremacy veils violence as charity. These 'schools' were designed to obliterate Indigenous families and traumatize or kill children throughout Turtle Island – destroying their culture, family ties, incarcerating them in places where they would be abused and neglected, and indoctrinating the next generation into white supremacy and white culture.
When is it?
Read:
Discuss:
What is trauma?
What is generational trauma?
What does it mean when a targeted person affirms: "Our existence is our resistance"?

Whose responsibility is it to speak the truth about history and injustice?
Take Action:
Tell your schools, communities, and friends about #OrangeShirtDay: Why we observe it, and the impact of residential schools on Indigenous people today.
Additional resources to dig deeper into this topic:
---
You are doing a good job!
We home school and I often build lessons around the books you and topics you suggest. The resource found-ups are my favorite thing. They are so helpful.

It's wonderful to be able to trust your book recommendations.

Megan B., LUMINARY BRAIN TRUST MEMBER
Want to keep Raising Luminaries free & accessible for all?
Support my out-of-pocket costs for hosting this website with a donation: Paypal | Venmo | Ko-fi
---
---
Monthly explorations for September
Let's Dismantle the Wealth Gap
Read:
Watch
Discuss:
What is the wealth gap? Why is it growing larger every year?
What is food insecurity? Why do some people have plenty of food, and some don't have enough?
What is healthcare accessibility? Why do some have access to health care, but others don't?
What is gentrification? How is it a form of displacement?
What is saviorism? How is it different from allyship or accomplice work?
Take Action:
Mapping Inequality: How was your neighborhood affected by redlining? If it's not on this map, does your city share resources on historical redlining and race-based policies?
Donate $5 to 25 to City Life/Vida Urbana – a grassroots community organization committed to fighting for racial, social and economic justice and gender equality by building working class power.
Additional resources to dig deeper into this topic:
---
Let's Explore Alternative Kid-Directed Schooling
With our neurodiverse family and the challenges of the pandemic, we choose to do self-directed home schooling for two and a half years through the start of the pandemic. It's not for everybody, (it's wasn't particularly ideal for us) and it's not any 'better' than other types of education.
We were lucky enough to have the privileges and resources to practice alternative schooling, and for it to be the least-traumatizing and risk-averse option for us. Not everyone has the resources to explore education alternatives.
No matter what education path you end up on, I hope you and your unique kids are able to find a method that helps your kids feel like safe and valuable members of the community.
So with that, here are some books to kick us off in our particular flavor of Bumblebee Hollow Academy: Luminary Lessons!
Read:
Discuss with kids:
What do each of our kids want to achieve in life?
What education will we need to make that possible?
What rights should every kid have to access a quality education?
What type of education works best for our family?
What barriers do we face getting the type of education that works best for us?
What resources do we have available to educate ourselves?
Do we like our education to be:

Self-directed or orchestrated by someone else?
By myself, with a partner, or in a group?
Uninterrupted, or would it be helpful to have someone check in with me?
Built into everyday life, or lessons during a special time of each day or week?

How will I know if the type of education I'm practicing is working for me? What results are we looking for? How can we measure them?
Take Action
Is someone shaming you for the decisions you're making on your kid's education?
Tell them to fuck off.
Additional resources to dig deeper into this topic:
Access a year's worth of discussion guides, resources, and lessons from our 2020-2021 Luminary Lessons.
This was previously locked for Patreon members only, so if you'd like to send a few bucks my way in exchange for an entire year's worth of lesson plans, do that here: Paypal | Venmo | Ko-fi
---
Let's Explore Healthy Masculinity
The Earthquakes have assembled an impressive identity as a kickass team – 'The Brothers' that steps far beyond the toxic boundaries of masculinity that I grew up with.
So many feminist books focus on expanding the boundaries and constrictions of toxic femininity. Few progressive authors are willing to rely on anything but a tokenized girl of color kicking ass and juggling lab equipment to explore gender futures.
Even as the Earthquakes explore gender outside masculinity, I want them to have a firm handle on what it means to be a boy, or a man, or anything leaning in the constellation of masculinity, in a healthy society.
Read:
Watch
Only Luminary Brain Trust members get access to our full analysis of problematic tropes and celebratory favorites from the #FamilyMovieNight series. The rest of you can still enjoy the movies though.
More resources to dig deeper:
---
---
Donate a Little Feminist Book Club subscription to your local summer camp so sensory-overwhelmed kids can enjoy rainy days & quiet recovery spaces.

Over the years, we've filled neighborhoods with books like All the Way to the Top and We Move Together.
---
---
September Calls Us To Action!
Family Call to Action: Host a Conversation on Kindness
[Image& text: "Kindness as an action. 25 ways to make an impact. Reach in: Define kindness and its importance as a value for your family. RevolutionaryHumans.com]
Reach In

If someone were to ask if you value kindness, certainly your answer would be something like, "Yes! Of course!" But because kindness is often used as a veil to circumvent real effort, take a few minutes to consider what kindness really means to you? How do you define it? Why do you value it? Is there a point at which kindness is either insufficient or impossible? What then? And, what about your kid(s) ask them what kindness means to them and how they show it.

Here's one example:

Someone (at any age) is being mistreated or bullied. We know what kindness isn't- joining in on the bullying- but do we know what it is? Is it kind to ignore the bullying? Or is kindness the action of speaking up and helping the victim?

Apply this logic to larger injustices- think about how your action or inaction shows up.

Today's action is to bring kindness into focus as a family!
Shared with permission in cahoots with Revolutionary Humans!
Co-creative art projects designed to inspire & spark hope in busy parents
Thought-provoking essays and journal prompts on parenting through multiple intersections of oppression
Receive monthly kindness actions to motivate little leaders
Live virtual events & book clubs
---
Via the Autistic Self-Advocacy Network: Help #StopTheShock and end legal torture against people with disabilities
15-second action:
Text SIGN PQMAJC to 50409 or use this link on Resistbot  to quickly text a template letter to your senators in congress.
If you prefer to call, use this template from ASAN:
"My name is  [your full name] , and I am from  [your city]. I am a constituent of Senator [NAME].
I'm calling to ask Senator [NAME] to vote to pass the FDASLA Act, with the language included which bans the use of electric skin shock for behavior modification. This language passed the House, as well as the HELP committee.
Only one institution in the country still uses electric shocks this way, and the UN found the practice to be torture in 2013. The FDA banned this use of electric shocks in 2020, but the DC Circuit Court overturned the ban on a technicality.
The Senate has the power to stop electric shock torture through the FDASLA Act. Can I count on the Senator to vote yes on an FDASLA reauthorization that includes the ban?"
Why this action is urgent:
Our best chance to ban contingent skin shock for behavioral control is now at risk. Some Senators are pushing for a stripped-down version of the bill, without important amendments like the ban on contingent electric skin shock.

We can't let them gut the bill's vital provisions – with the clock ticking, we must convince the Senate that this language is critical to ensuring the human rights of people with disabilities.


We need one final push to #StopTheShock! The Senate aims to pass the FDA Safety and Landmark Advancements Act (FDASLA) before the end of the month – and it must have the amendment from the HELP committee banning the use of electric shock for behavior modification. We need a big push RIGHT NOW to let our elected officials know that this provision is critical to our community."
Sign up for ASAN action alerts via email
---
I learn so many things with this group, which in turn helps me teach my littles. It is so helpful to be reminded that we don't have to do all the things all the time, too.

I'm so glad I've found this amazing safe space to learn, read, try new things, and know that there are other amazing people like you who totally have my back and are rooting for me. THANK YOU!

Cassi M., LUMINARY BRAIN TRUST MEMBER
---
---
You are doing a good job!
We support those who support our community. I've reinvested 12% of our 2021 Patreon pledges to activists and organizations such as Abortion Within Reach.
Find out who pays all this, and where the money goes in our Financial Accountability disclosure. It's got charts! And just abysmal budgeting skills!
Join us and help keep these resources free for everybody:
---
---
Good Finds for September
Update: We're now tracking classic good finds over here by recommended age and publish date.
You can keep track of great new finds as we add them to the in-progress best books of 2022 as well as our Autumn Favorites.
One more good thing…
[Video description: Cuteness starts around 0:37 and ramps up from there. Q and R2 stooping on a nice day when they were 3 & 5. R2 casually smears a yogurt pop all over himself. Q peels a carrot to death. R2 references a favorite book 'Preschool to the Rescue.' Q apologizes for not sharing his birthday cake over a year and a half ago. R2 assures us he has and will share his cake and his presents wif all of woo.]

Click through to the video page for transcripts and toddler translation.
---
Stay Curious, Stand Brave & Smash The Kyriarchy
I know everyone wants you to PREPARE AND DO AND CREATE AND SHOW UP asap – but I just wanted to remind you that slowing down when the season changes it is a part of decolonizing and anti-supremacy work.
I don't ever expect you to do *all the things* in these roundups. They're not more stuff for you to handle, they're the tools you can use to burn away the bullshit and climb to a better world, if you want it. The stuff I make for you is here for you for when you're unsure of where to start, for when you need support.
I appreciate you. I want you to feel safe and happy and whole. So you better be kind and patient with yourself! I demand it!
With you,
– Ashia
---
---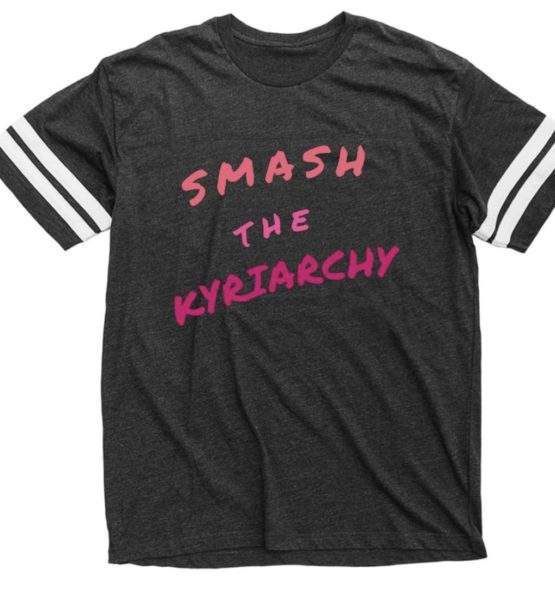 You give me hope.
Knowing we're in this together, each making tiny steps toward courageous, radical kindness – we're not alone!